How to bypass the login banners?
There is actually more than one banner to bypass. One of the them is the message of the day banner, commonly located in /etc/motd. Typically friendly, example in AIX
****************************************************************************
* *
* *
* Welcome to AIX Version 6.1! *
* *
* *
* Please see the README file in /usr/lpp/bos for information pertinent to *
* this release of the AIX Operating System. *
* *
* *
***************************************************************************

This is easy to bypass, simply place .hushlogin file on your serverside homedirectory :

$ touch $HOME/.hushlogin
$

Yes, it is that easy.
A bit more cumbersome is the ssh banner. Which rather have an aggressive look with criminal punishment threats.

|-----------------------------------------------------------------|
| This system is for the use of authorized users only. |
| Individuals using this computer system without authority, or in |
| excess of their authority, are subject to having all of their |
| activities on this system monitored and recorded by system |
| personnel. |
| |
| In the course of monitoring individuals improperly using this |
| system, or in the course of system maintenance, the activities |
| of authorized users may also be monitored. |
| |
| Anyone using this system expressly consents to such monitoring |
| and is advised that if such monitoring reveals possible |
| evidence of criminal activity, system personnel may provide the |
| evidence of such monitoring to law enforcement officials. |
|-----------------------------------------------------------------|

Well, you could delete it from your ssh server but this would not please your sysadmins. The banner is actually a pre-authentication banner, so you must configure it on the client. With the unix ssh client, you lower the log level. Either with a command line option, -o LogLevel=quiet, or in a configfile

$ cat $HOME/.ssh/config
LogLevel=Quiet
StrictHostKeyChecking=no
NumberOfPasswordPrompts=1

This is so quiet that you will not get any feedback if you cannot connect, but I prefer quiet than noisy.
A very commonly used Windows ssh client is putty, and there, O miracle, there is a pre-authentication-banner option to uncheck in SSH-Auth.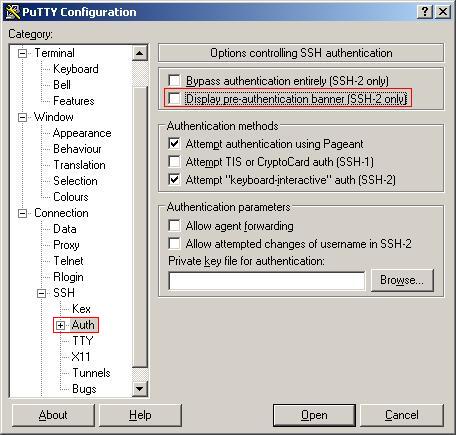 This appeared in putty 0.62 and it made my day today 🙂